Comprehensive Lymphedema Management
At Sakra Lymphedema Clinic, we aim to provide complete comprehensive lymphedema care services to our patients including, screening, conservative treatment, surgical treatment and lymphedema rehabilitation. Our comprehensive program comprises of a detailed lymphedema staging protocol, followed by consultation with experts regarding management and treatment strategies (surgical treatment in adjunct with lymphedema rehabilitation).
We conduct a full assessment of your lymphatic profile, including previous medical history, examination and ICG screening. With ICG lymphography, your doctor will be able to show you the structure of your lymphatic system live on the screen with ease, and explore treatment options with you accordingly.
We aim to provide outstanding care to our patients using the latest technologies in diagnostics and treatment by internationally certified lymphedema specialist team involving plastic surgeons, physiotherapist, occupational therapist, clinical psychologist and clinical nutritionist.
What is Lymphedema?
Lymphedema/elephantiasis is progressive disease where there is increase in size of limbs or body part due to accumulation of lymphatic fluid, when there is damage to the lymphatic system. if untreated results in complications like wounds, water discharge or immobility/ poor quality of life.
What are the causes of Lymphedema?
Based on the underlying cause, lymphedema can be classified as primary or secondary. Primary lymphedema, an inherited condition occurs because of abnormal development of the lymphatics. It could be present at birth or develop later in life.
Secondary lymphedema, the more common type of lymphedema, develops post cancer surgery or cancer treatment. It is caused because of damage to the lymphatics from surgery (sentinel node biopsies, axillary/groin lymph node dissection) or radiotherapy.
Lymphatic filariasis, on the other hand, is a parasitic disease transmitted through bites of infected mosquitoes. Also referred to sometimes as elephantiasis, this disease manifests in the form of lymphedema and can lead to permanent disability.
Symptoms
Signs and symptoms include swelling in arms or legs, heaviness, joint pain, weakness in the arm or leg and tightness or difficulty in moving.
Early signs of lymphedema may include difficulty in seeing or feeling veins, skin redness, change in limb volume and inflexibility of joints. Late signs of lymphedema include skin changes, wounds, and watery discharge at affected area.
Risk factors
Many factors increases your risk of developing lymphedema after cancer treatment or from other secondary causes include:
Older age
Excess weight or obesity
Complications
Lymphedema in arm or leg can cause serious complications, such as:
Infections. Possible infections which will result from lymphedema include a significant bacterial infection of the skin (cellulitis) and an infection of the lymph vessels (lymphangitis)
Lymphangiosarcoma. This rare sort of soft tissue cancer may result from the most-severe cases of untreated lymphedema. Possible signs of lymphangiosarcoma include blue-red or purple marks on the skin.
How is lymphedema diagnosed?
This condition is diagnosed by:
Physical examination and history
Imaging
ICG lymphography (Indocyanine green dye scan)
Lymphoscintigraphy
MRI
How lymphedema treated?
Earlier intervention is new focus of lymphedema management.
Surgery should be offered early in the course of disease to be effective as conservative treatment fails to prevent progression.
Conservative treatments should be offered in conjunction with surgical treatment and lymphedema rehabilitation.
Services provided by Sakra Lymphedema Clinic
ICG based real-time lymphedema scan
Lymphovenous Bypass surgery (LVA)
Lymph Node Transfer Surgery
Lymphedema reduction surgery
Conservative treatment (lymphedema rehabilitation)
ICG based real-time lymphedema scan

ICG lymphography is a safe and non-radioactive diagnostic method. Indocyanine green is a dye specifically taken up by the lymphatic system of the body. This dye is injected in the affected limb to map the structure of the lymphatic network. Information thus obtained, helps doctors in assessing the stage of lymphedema, prescribing treatment protocol, and suggesting surgical intervention as needed.

Lymphovenous bypass surgery (LVA)

Among the surgical treatments offered by Sakra is Lymphovenous anastomosis (LVA) or bypass. Using advanced super microsurgery, this technique involves connecting lymphatic channels to adjacent veins in order to bypass the damaged lymphatic system.

In this surgery, vein and lymphatic mapping done before the begging of surgery, based on this imaging small cuts are made at multiple site at affected area and LVA done. It is day care procedure and patient can resume their daily activities from same day and can resume all activities in one-week time. Compression garments need to be worn for 6 months after surgery. Results of the surgeries are appreciated by 3 to 6 months after surgery

Lymph node transfer surgery

Lymph node transfer surgery involves transplanting lymph nodes from a healthy region to the area with swelling. Lymph nodes thus transplanted help in draining lymphatic fluid and can potentially repair damaged lymphatics.

This procedure is done under general anaesthesia and needs 3 to 4 days' admission. Patient can resume their daily activities by one week and heavy duties by 3 to 4 weeks after surgery. Patient need to wear compression garments for 6 months to one year following surgery. Results of the surgery are usually appreciated by one-year time and this will improve over next few years.

Lymphedema reduction surgery

These are done in advanced disease with severe skin changes

Liposuction- excess fat is sucked out from affected limb through the keyholes by specializes liposuction machine.
Sistruck procedure – In this the limb size is reduced by debulking and primarily suturing.
Charles procedure where in the involved affected skin is excised up to the fascia and grafting with healthy skin is performed.

A combination of the above surgical procedures may be required in multiple stage for treatment

Conservative treatment (lymphedema rehabilitation)

Conventional therapy for lymphedema comprises meticulous skin care, massage (MLD) and compression bandaging.

Manual lymphatic drainage (MLD) is a technique that involves lightly massaging the affected area in order to move the lymphatic fluid to an unaffected area. This allows lymphatic fluid to drain more freely and helps with swelling.

Complete decongestive therapy (CDT) is an intensive program that combines different treatment approaches such as advanced dynamic compression therapy,pneumatic compression therapy, kinesiology taping, bandaging, compression garments, decongestive exercise therapy and self-care.
Advanced Technologies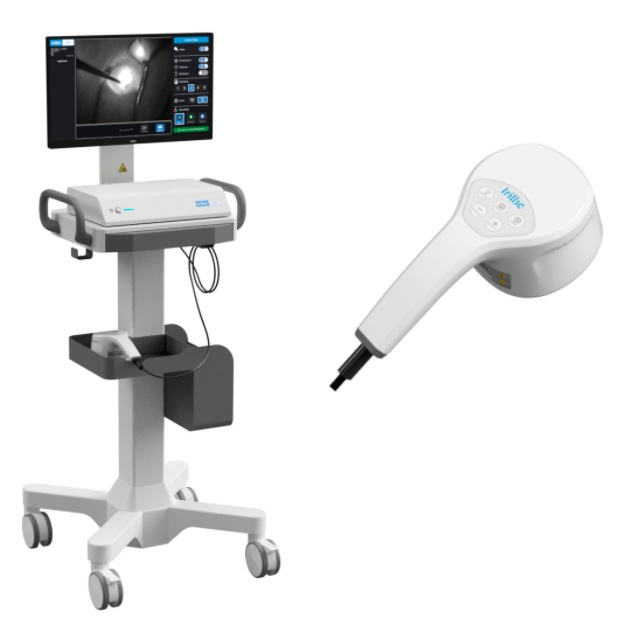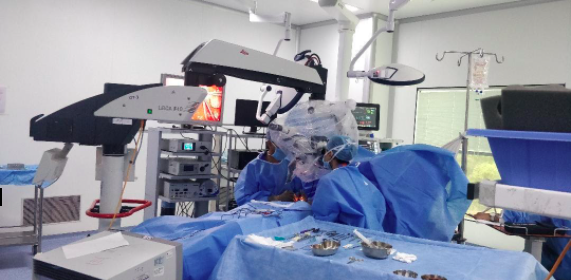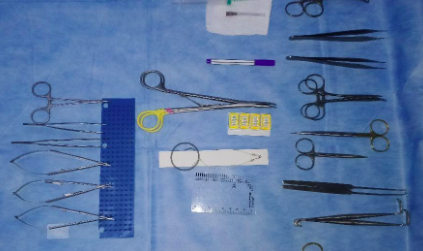 How and When to approach us
Approach us if you develop a swelling in your upper or lower limbs.
You should also get in touch with us six months after your cancer treatment or gynaecological surgery irrespective of change in limb volume. If you have undergone cancer treatment, we recommend that you schedule an ICG scan with us. Not only does this aid in early lymphedema detection, but it also improves management & treatment strategies, allowing you to fully assess your options before you finalize a treatment plan.
The greatest advantage of our lymphedema program is the benefit of conducting scheduled lymphedema scans for our patients. This enables our doctors and patients to stay informed about lymphedema progression and make timely decisions, as against dealing with the consequences of advanced lymphedema.
Prevention:

- The affected area is more likely to become injured or infected. Take these steps to assist prevent infection:

- Keep the affected area clean and dry.

- Use approved creams or lotions to stay the skin moisturized.

-Protect your skin from cuts:

- Use gloves while cooking or gardening.

- Do not walk barefoot.

- If you shave the affected area, use an electrical razor.

-Do not wear tight clothes, shoes, or jewelry.

- Eat a healthy diet that has tons of fruits and vegetables.

Activity:

• Exercise regularly as directed by your health care provider.

• Do not sit together with your legs crossed.

• When possible, keep the affected limb raised (elevated) above the extent of your heart.

• Avoid carrying things with an arm that's suffering from lymphedema.