THE TOTAL SOLUTION FOR REHABILITATION CARE CONTINUUM
Efficient solutions for human movement therapy using innovative technologies, across the entire continuum of rehabilitation: from severe to mild impairments and from acute treatment to continuous training at home.
Use of robotics in rehabilitation can benefit many patients, including:
⁜ Stroke/Hemiplegia
⁜ Spinal cord injuries (SCI)
⁜ Traumatic brain injury (TBI)
⁜ Multiple sclerosis (MS)
⁜ Neuropathies (e.g. Guillain-Barré syndrome)
⁜ Cerebral palsy (CP)
⁜ Recovery from neurosurgical interventions
⁜ Muscle diseases
⁜ Parkinson's disease and other movement disorders
⁜ Limb coordination issues
⁜ Recovering from bone fracture
⁜ Rehabilitation post Joint Replacement surgeries (Eg. elbow and shoulder endoprostheses, TKR, THR)
Encouragement of Neuroplasticity
We move when the neurons in the brain send commands to the muscles. Locomotor impairments can occur when neurons in the brain are damaged or the signal pathways are interrupted.
Recovery occurs spontaneously by resolving injury-related factors but also due to neuroplasticity processes. Repeated active training can enhance neuroplasticity and re-organize cortical maps to recover functionality.
Long-term use of lower extremity robotics can assist:
⁜ Increased strength in limb muscles
⁜ Improved body posture
⁜ Increase in bone density
⁜ Improved bowel movements
⁜ Improved sleep patterns
⁜ Decreased musculoskeletal pain
⁜ Decreased cholesterol levels
⁜ Decreased spasticity
⁜ Decreased rate of cardiovascular disease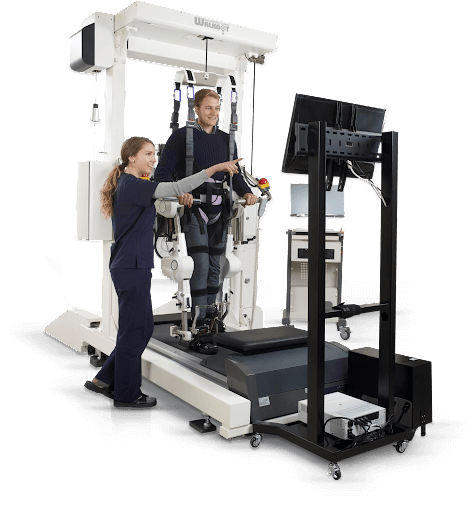 WALKBOT is a world-class robotic gait training system that offers the most natural and accurate gait rehabilitation training for patients suffering from neurological disorders and gait impairments. Walkbot provides repetitive, intensive, task-specific and Interactive training which can enhance neuroplasticity. Walkbot allows the patient to walk more than 1,000 steps in one training session which is 10 times more than conventional therapy and sufficient for neuroplasticity. The ankle-knee-hip interlimb coordinated robot training and reproducible gait pattern allow patients to repeatedly train a more accurate gait pattern. Furthermore, Walkbot also offers a variety of feedback programs to encourage patients to participate more actively in the training, stimulating the neuromuscular systems to accelerate recovery.
The finest robot-assisted gait rehabilitation system - Walkbot @ Sakra Rehab
⁜ The world's first successfully implemented functions for ankle joint drive, Interactive training mode, automatic length adjustment, natural gait pattern generating software.
⁜ Increased user convenience and efficiency - Finer automatic length adjustment, intensive training with shorter time and less therapist's fatigue, patient data retrieval function.
⁜ Proven device safety - No single accident has occurred from its inception into healthcare facilities globally. Global safety certification (KFDA, CE, FDA, etc.)
⁜ Clinical effectiveness Consistent improvements in gait function and balances in the actual training and clinical papers. Clinical studies testing EEG brain waves before and after Walkbot therapy proved that the brain becomes more active and normalized after training patients with brain lesions all of which are proof of neuroplasticity.
Synchronization of Ankle, Knee and Hip joints
Walkbot intends to make patients acquire the correct gait pattern as correctly as possible with the help of perfect synchronization of 3 actuated joints which is designed based on the actual gait algorithm of biomechanics study.
'Ankle joint drive' aids in the control of ankle dorsiflexion-plantarflexion, as well as the prevention of toe dragging and foot drop, ultimately providing a natural and unobstructed swing phase in the gait cycle.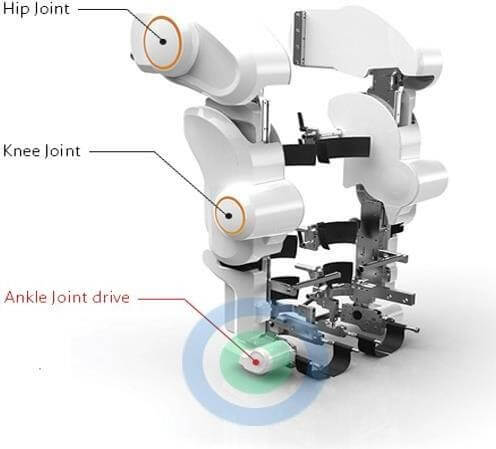 Automatic adjustment system
The automatic leg length adjustment system offers an unlimited and patient-specific gait pattern based on each patient's anthropometry through precise adjustment by 1mm, resulting in more accurate gait training and a shorter preparation process that leads to a more cost-effective operation.
Interactive training mode
Walkbot provides an intelligent interactive way that automatically accommodates spasticity or associated stiffness, assistance and resistance forces, hip, knee, & ankle joint kinetics, walking speed and kinematics based on the client's ongoing locomotor performance to maximize 'automatic' locomotor retention, relearning and full recovery.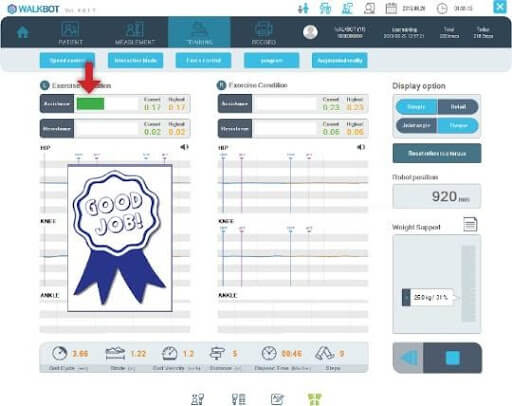 Facilitating Natural Walking Pattern
Walkbot is designed to provide the most natural kinematic and kinetic gait patterns, allowing patients with chronic or acute stroke, spinal cord injury, or any gait-related impairment to relearn the optimal locomotor pattern and recover rapidly during the initial rehabilitation phase. This may help teach the patient proper walking technique from the start, avoiding improper gait patterns.
Active augmented virtual reality software
Walkbot provides exciting, customized 3-D virtual reality exercise games so that our clients do not see gait training as a form of therapy, but rather as an opportunity to walk in interactive, ecologically natural or virtual environments. The virtual reality program in the robotic gait training can help the biofeedback of walking.
Stimulation of Visual, Auditory, and Tactile senses
Walkbot can stimulate the human senses in many ways.
See:The front camera allows the patient to watch their walking in real-time and helps them walk in the correct posture.
Hear:The patient can hear the regular metronome beep sounds at particular points, such as toe-off, heel contact. This makes it easier for patients to learn gait patterns through this sensory feedback, such as when to give more strength to their legs with the sounds.
Feel:Kicking a ball makes training more realistic by using a real object for achieving the task goal.
Dynamic bodyweight support
Real-time unload adjustment and inertia compensation during walking enables optimization of the most physiological walking pattern and prevent risk of fall
Measurement & Evaluation
The therapist can quantitatively evaluate the recovery stage of the patient with various evaluation tools that can measure the patient's ROM, Stiffness, and Force.
3D Gait Simulation and gait pattern analysis
Data of the patient's actual kinetic and kinematic performance during the training are recorded to analyze and rectify inaccuracies or imbalances.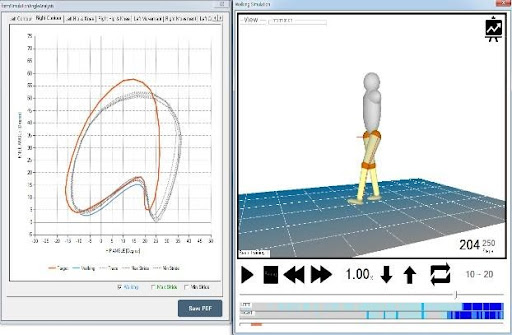 Measurement & Analysis of Dynamic Plantar Pressure
The sensor-based Force Plate system captures the static and dynamic foot pressure distribution and Center of Pressure trajectory when the patient is walking on the treadmill helps the patient to relearn the correct walking patterns from the very beginning.
Summary report
Summarized training information helps the patient to see their progress at a glance and allows the therapist to establish an optimized training plan for each patient.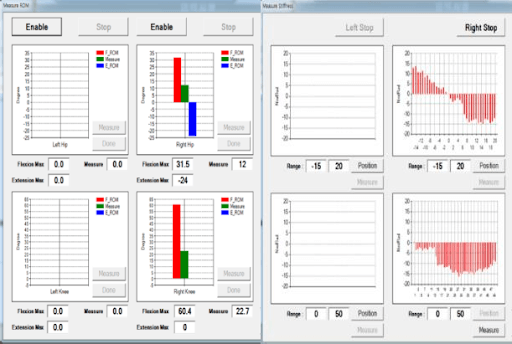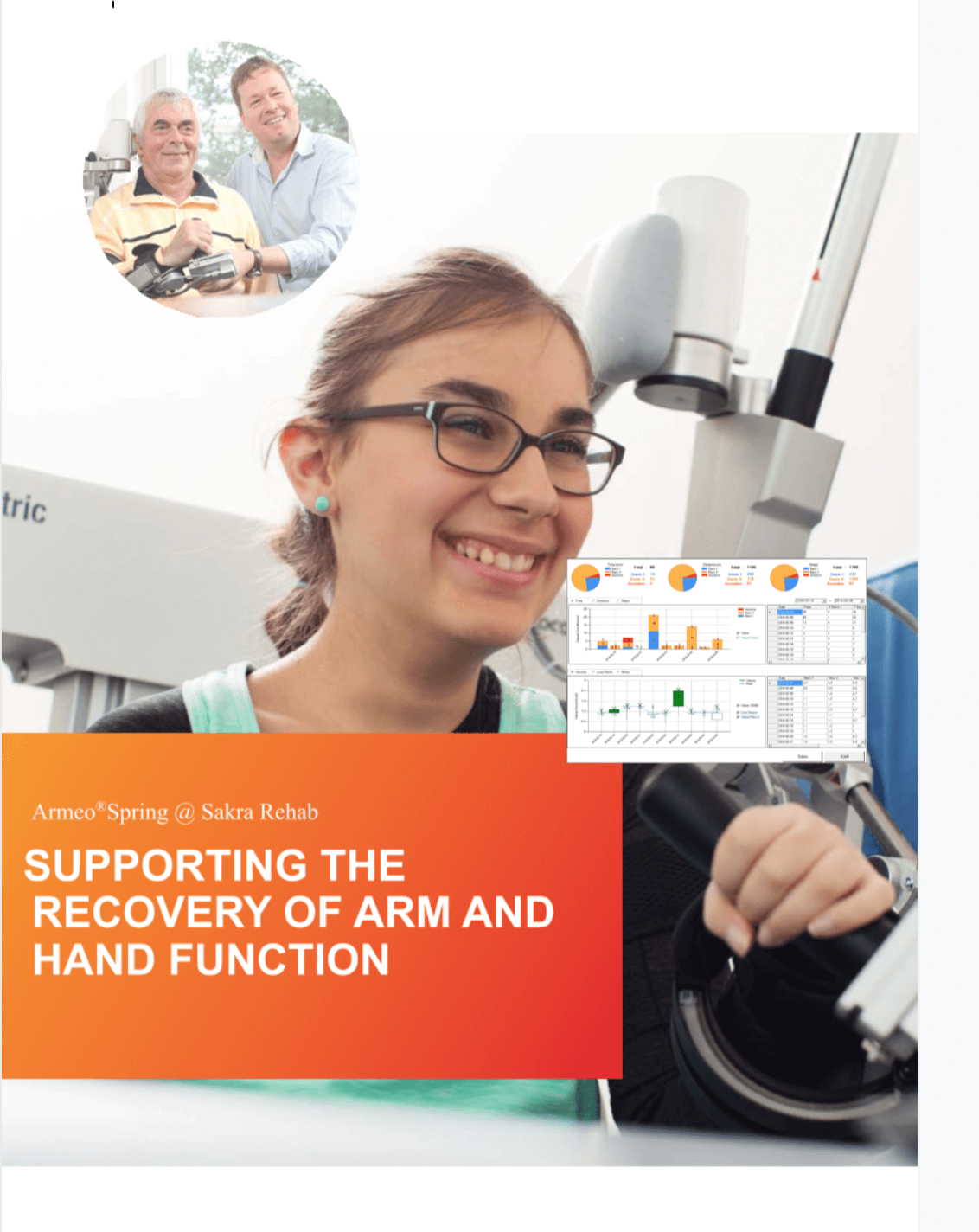 THE CONTINUUM OF ARM AND HAND REHABILITATION
SELF-INITIATED MOVEMENT THERAPY
Repetitive arm and hand therapy in an extensive 3D workspace.
By providing arm weight support, the ArmeoSpring enables patients to use any remaining motor function and encourages them to achieve a higher number of reach and grasp movements based on specific therapy goals.
⁜ SIMULTANEOUS ARM AND HAND THERAPY IN A 3D WORKSPACE
⁜ INCREASED THERAPY EFFICIENCY
⁜ BETTER LONG-TERM OUTCOMES
⁜ ERGONOMIC EXOSKELETON embraces the whole arm, from shoulder to hand, and counterbalances the weight of the patient's arm.
⁜ ADAPTABILITY TO PATIENTS Continuous adaptation of weight compensation force to patient's needs
⁜ MOTIVATING EXERCISES game-like Augmented Performance Feedback to train core movement patterns that are commonly used in activities of daily living.
⁜ OBJECTIVE ASSESSMENTS precisely records how patients perform during their therapy sessions.
⁜ PART OF A MODULAR THERAPY CONCEPT the world's first upper extremity concept that covers the whole "Continuum of Rehabilitation" –from early rehabilitation to long-term recovery.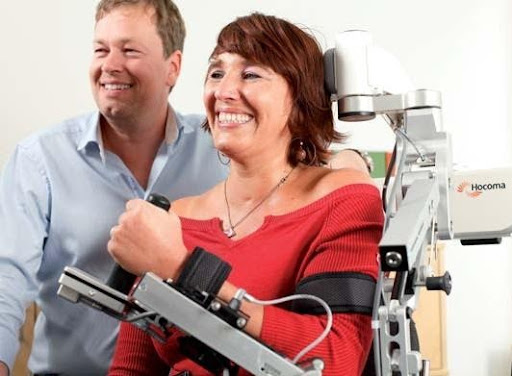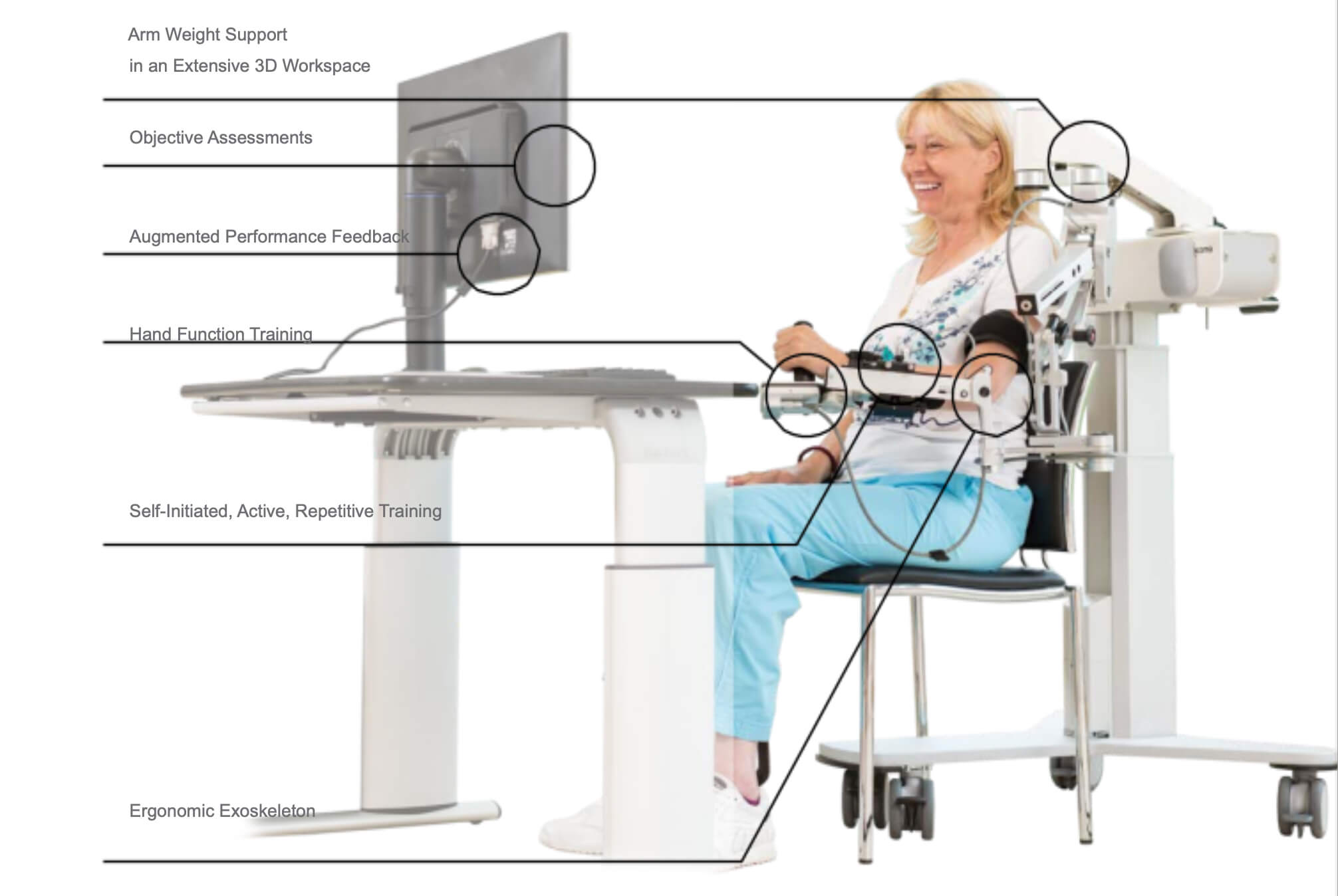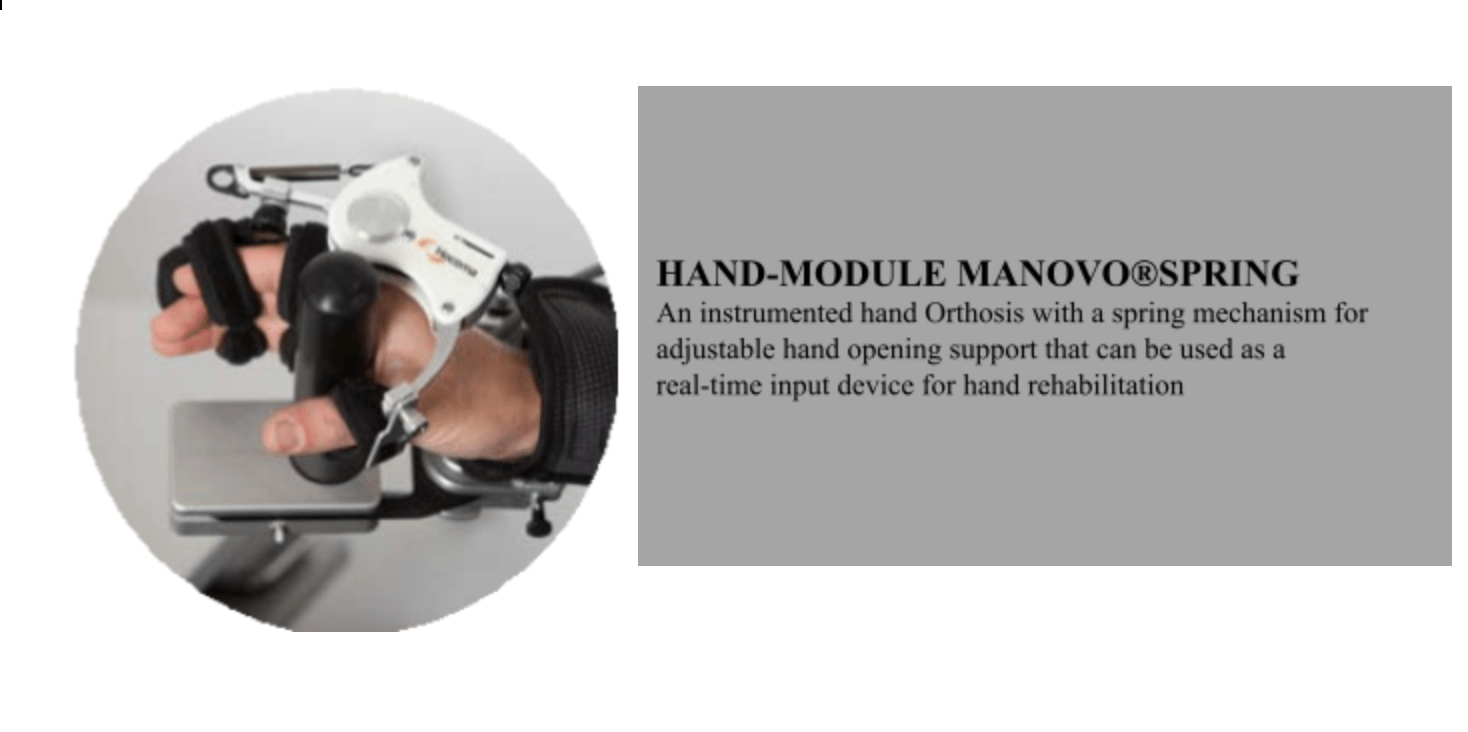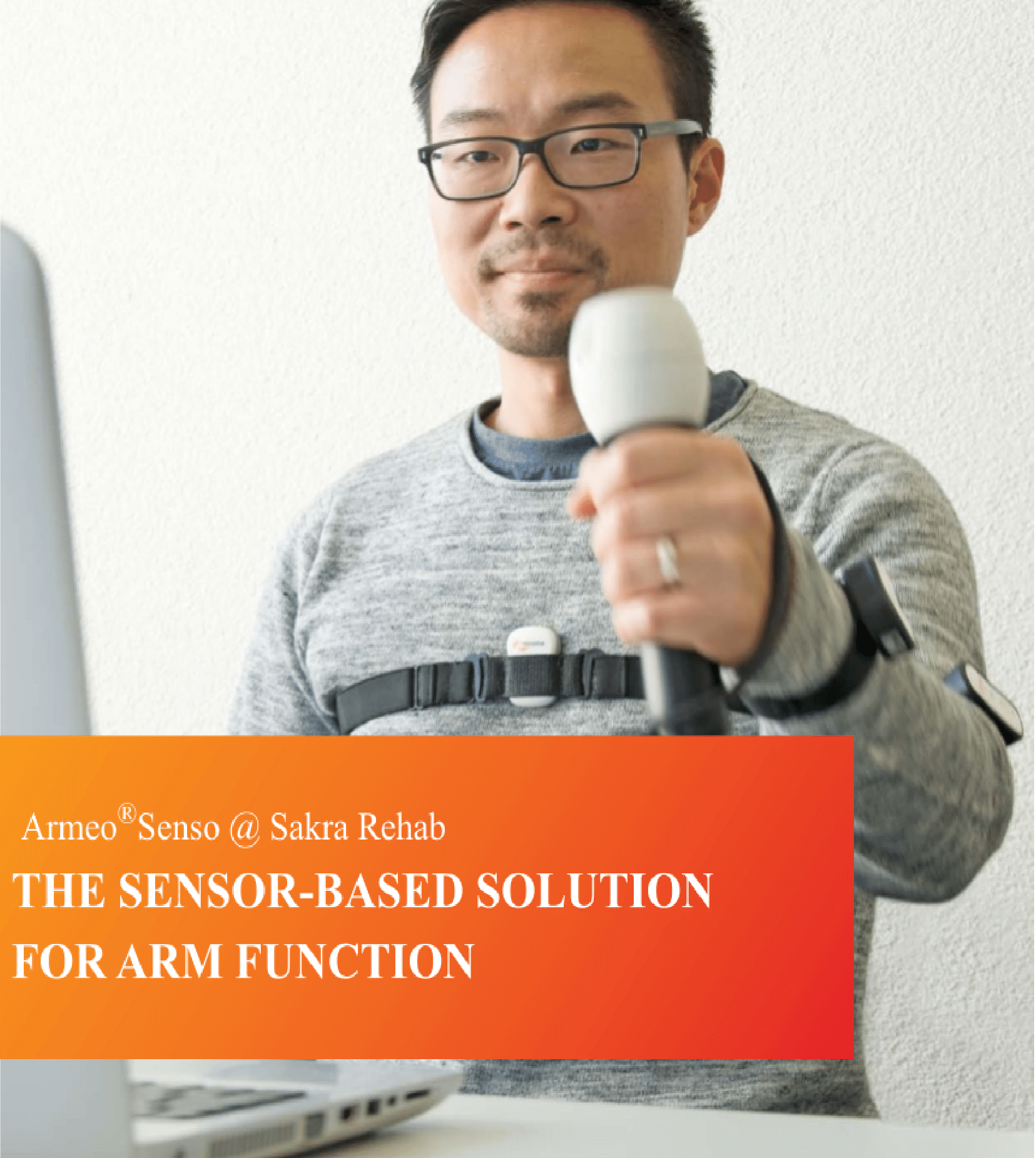 ARMEOSENSO - It is a sensor-based solution for recovering arm function.
HIGHLY INTENSIVE ARM THERAPY
Self-initiated, active, motivating, and repetitive arm movement in a 3D workspace for patients with mild to moderate impairments.
⁜ Versatile And Compact
⁜ Intuitive and User-Friendly
⁜ Optimized Efficiency - Compensatory movements of trunk detected
⁜ Hand Module - to interact with the Augmented Performance Feedback through the gripping function.
⁜ Functional and motivating exercises in 1D, 2D and 3D
⁜ Precise Assessments for analysis and documentation of patient progress
⁜ Arm Weight Support provides adjustable functional assistance during the exercises.